President Prize winners
2021 winners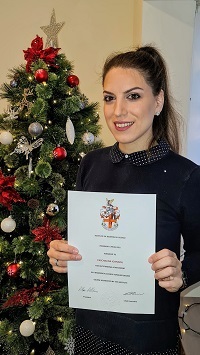 Paschalina Ioannou
University of the West of Scotland
"Having completed a BSc (Hons) in Chemistry and a MRes in Biochemistry, I decided to return to university and complete the BSc (Hons) in Applied Biomedical Sciences, as I would like to pursue a career in a clinical laboratory in the NHS.
Dedicated to achieve my goal, I worked hard throughout my studies and so I was fortunate to be selected to undertake my integrated placement at Royal Alexandra Hospital, Paisley, where I successfully completed my IBMS registration portfolio.

Currently, I am working as a Biomedical Scientist in the Clinical Chemistry department in the Forth Valley Hospital, Larbert, feeling proud to be part of this big family and contribute to offer the best service to the public."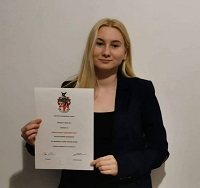 Gabija Marija Samsonkovaite
Robert Gordon University
"I was awarded the IBMS President's Prize at the Robert Gordon University (RGU), achieving a First-class degree in BSc (Hons) Biomedical Science.
During my time at RGU, I have gained an in-depth knowledge of many aspects of biomedical science. It has been an excellent experience that provided me with the skills and knowledge needed for my future endeavours.

I am currently pursuing an MSc in Drug Discovery and Pharma Management at University College London. I look forward to combining my knowledge of biomedical science with pharmaceutical industry towards benefiting the communities."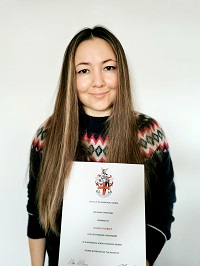 Regina Thurley
Bangor University
"At Bangor University I enjoyed every aspect of the course; everything from Microbiology, Biochemistry, Blood science to Cellular Pathology was fascinating. I gained amazing practical laboratory skills which allowed me to be part of a very interesting project "Covid in Wastewater".
I managed to complete an IBMS Certificate of Competence and I work now as a biomedical scientist in a pathology department.
I find it rewarding to be part of the department and be able to help patients and assist consultants. Thank you IBMS for all the support during my registration!"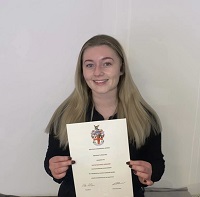 Katie Higham
Liverpool John Moores University
"I thoroughly enjoyed studying my BSc (Hons) Applied Biomedical Science degree, which allowed me to develop the required knowledge and skills for the role of a Biomedical Scientist.
My degree incorporated an integrated placement, where I worked as a trainee BMS and completed my IBMS registration portfolio within a haematology and transfusion laboratory.

Since becoming HCPC registered, I have started my career as a Biomedical Scientist, and I am currently working in a COVID-19 LAMP laboratory, where I am supporting the mass asymptomatic serial testing of NHS staff.
I am hoping to specialise in Haematology and Transfusion in the future and I am eager to complete my Specialist Portfolio and study an MSc in Biomedical Science in the near future."