To mark this centenary, we are running the 100 Years of Women in the IBMS campaign throughout 2022 - kicking off on 11 February for the International Day of Women & Girls in Science.
Today, 67% of IBMS members are women and we want to ensure that their hard work, dedication, professionalism and achievements are recognised.
In celebrating this 100 year anniversary, we aim to raise the profile of our female members, highlight the achievements of women in the biomedical workforce and inspire future generations of female scientists.
A formal motion admitting women to membership was passed on 4th February 1922, but there appear to be women in some form of membership prior to this.
In 1921 Miss G S Brown was admitted as a Junior Member in Division C, subsequently became an Ordinary Member in 1924.
More female members were recorded in 1922: Miss E H Bedson and Miss S Glasscock were admitted as Ordinary Members in Division A. Given the rules at the time, this implies that Miss Brown had been working in a laboratory since at least 1916, and Miss Bedson and Miss Glasscock since 1917.
In 1924 Miss Bedson passed the examination in bacteriological technique and was therefore the first female member to do so.
The membership records for this period show that two of the women, Ann Wallace and Miss M Nash, were university graduates with BSc degrees. This qualification is not recorded for any male PBLAA members by this time, and thus these women appear to be the first graduate members of the profession.
From our founding, it took 85 years until our first female president was elected. The IBMS has now had three female presidents in our history - including current IBMS President, Debra Padgett.
| | | |
| --- | --- | --- |
| | | |
| 1997, Jocelyn Germain | 2018, Alison Geddis | 2022, Debra Padgett |
Council
Currently, 10 out of 21 members of IBMS Council are women.
The first female member on Council was Miss Vera Anne L Brews, known by all as 'Val'.
Miss V A L Brews had the double honour of being the first woman elected to Council in 1956 and at the same time received the Sydney Mann Memorial Prize and Medal. She was also the first woman to serve on the examining body and in 1968 was the first woman to be elected a Life Member.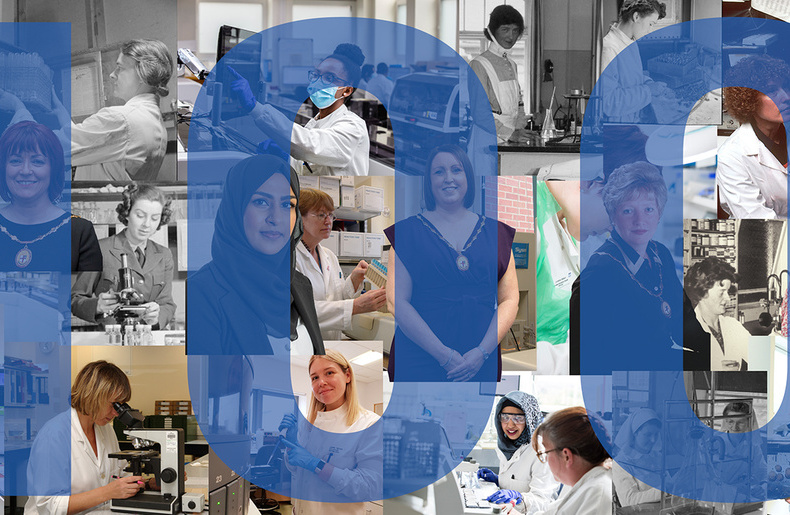 100 years of women in membership
To promote the work of women in biomedical science, we need your stories. Submissions from female members can be as short as a quote or as long as a blog post, contact us with your suggestions.